Creating a Culture of Confidence
At New Star, advocacy isn't just a program; it's a passion!
Many of our consumers grew up in a world that encouraged individuals with developmental disabilities to remain silent. They became accustomed to people either speaking about them – often focusing on their limitations rather than their potential, or speaking for them – making choices and decisions on their behalf.
At New Star, we are committed to helping our consumers advocate for themselves. Within our culture of confidence, they learn that no matter how big or how small – if it matters to them, it matters to us all.
The Many Faces of Advocacy
What does advocacy look like at New Star? It looks like Tom, championing the goals he has set for himself in his service plan; like Stephanie, giving staff suggestions about ways to improve our programs; like Robert, telling employment specialists what kind of job he wants in the community; or like Rhonda asking for different meal choices within her group home. At New Star, our consumers are empowered to communicate their needs, make positive changes within their environment and, ultimately, improve the quality of their lives.
PossABILITY Partners
Beyond our everyday advocacy efforts, New Star consumers also have the unique opportunity to become members of our nationally-recognized advocacy group, PossAbility Partners. PossAbility Partners is a self-governing body of consumers who are involved in advocacy efforts within New Star and throughout the region.
PossAbility Partners members are actively engaged in shaping New Star as an organization. Conducting tours of our facility, interviewing potential job candidates, and educating other consumers about their rights are just a few of the ways that PossAbility Partners ensures our programs, our staff, and our service delivery remains consumer centered.
PossAbility Partners has also become a vital part of the national conversation regarding disability rights. PossAbility Partners members participate in the annual Disability Pride Parade, present at state and regional conferences (such as Speak Up Speak Out), attend national trainings, and lead lobbying efforts in Springfield, Illinois. Check out their article in Special Parent Magazine!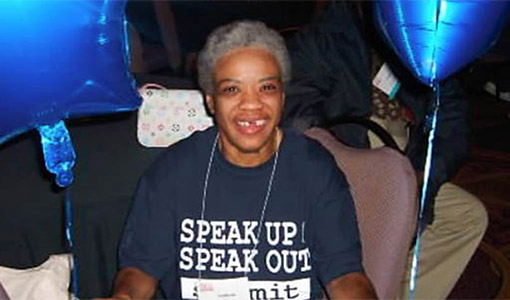 Advocacy in Action
New Star's advocacy efforts have made and continue to make a real difference in the lives of individuals with developmental disabilities. As PossAbility Partner's current president, Veronica Phipps, describes, "We speak up and speak out for those who haven't yet learned how to do it for themselves." How does that make a difference? Over the years, PossAbilityPartners…
Successfully lobbied to have the "R" word taken out of all Illinois legislation
Became advisors for the Illinois Ligas Committee regarding the rights of individuals with developmental disabilities to live independently
Worked with a delegation from Scotland studying advocacy efforts within Illinois
Served as board members of the Illinois Self-Advocacy Alliance
Educated students studying social work at Governors State University about effective approaches to working with individuals with developmental disabilities.