It IS Easy Being Green
Getting rid of your e-waste isn't as easy as it used to be. In 2011, the new Electronic Products Recycling and Reuse Act banned the disposal of electronics in landfills.
New Star's EcoSafe Processors can stop these new regulations from expanding your liability and shrinking your bottom line!
Ecosafe makes it easy to be green. We don't just provide e-recycling services, we offer peace of mind through our guarantee that your data will remain secure and your e-recycling program will stay compliant.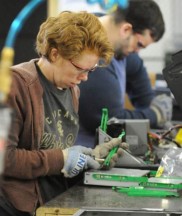 Guaranteed Data Protection
Your security is our number one priority. We use our state-of-the-art hard drive shredder to ensure your data is completely erased and destroyed. Still concerned? We encourage you to send a representative to observe the on-site destruction of your hard drive.
Free Pick Up for Large Loads
While our competitors charge fees per ton of waste removal, we offer our customers the advantage of free pick-up and delivery for those supplying large amounts of electronic waste.
The Opportunity to Change Lives
When you choose EcoSafe as your e-recycler, you are making a choice that is both environmentally sound and socially responsible. We transform your old electronics into new, long-term employment opportunities for people with disabilities.  And, because New Star is a not-for-profit organization, your donation of used electronics may be tax deductible.
Credit Towards State BEP Goals
Subcontracting with New Star Services, a certified State Use vendor, offers your organization the added advantage of earning credit towards state Business Enterprise Program (BEP) goals.
What We Recycle
Currently, we accept e-waste items that contain electronic circuitry, working or not, such as:
Computers/Laptops/Desktops
Modems, Motherboards, Servers
Keyboards, Mice
Hand-held devices
Computer Wire/Cables (all types)
Hard Drives
Speakers, Cell phones
Printers, Fax Machines, Calculators
EcoSafe cannot accept items that may dispense hazardous fumes, liquids or gases.
Our Clients
While we encourage you to contact us to discuss your particular recycling needs, we contract primarily with:
Large corporations
Small businesses
Educational Institutions
Government agencies
Electronics manufacturers
Not-for-profit organizations
SOME OF OUR SATISFIED CUSTOMERS INCLUDE…
The Chicago White Sox, Motorola, Bimba Manufacturing, MiJack Products, Adler Planetarium, Easter Seals, City Colleges of Chicago, Prairie State College, Homewood Flossmoor High School and more.