A Step Toward Independence
At New Star, our experienced intake and community living staff take extra care when helping you find the right living solution. We understand that the question of whether or not adult consumers should remain living at home or move into a more independent living arrangement is often one of the most challenging decisions guardians, family members, and their loved ones face.
From your first step to your door step, we provide the information you need
to feel confident in your decision to move forward.
Welcome Home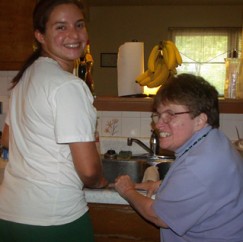 When it comes to residential care, one size does not fit all. That's why we offer a full spectrum of residential options that balance our consumers' desire for independence with their needs for supervised care.
Intermittent Community Living Arrangements (I-CILA)
New Star has 22 agency-owned and two privately owned Community Integrated Living Arrangements (CILAs), licensed through the Illinois Department of Human Services. In addition, we also have two independent apartment buildings that provide consumers the opportunity to live on their own with minimal support.  All the buildings are integrated into lovely neighborhoods throughout the Chicagoland area (both Will and Cook County), including Crete, Flossmoor, Thornton, Matteson, South Holland, Steger Oak Forest, Park Forest, and Alsip. Residents take great pride in their homes. They enjoy decorating their own bedrooms, suggesting weekly activities and outings, and planning menus. They are responsible for their own laundry and personal care (according to skill level) and share daily chores associated with overall household management.
Community Integrated Living Arrangements (CILA)
New Star, I-CILA program provides services for individuals who live independently but still need outside supports. Some of our consumers live in our homes and apartments, while others live in their own residences. Individuals are assigned their own coordinator and personal support worker who help them achieve the goals listed in their Individual Support Plans.
Privately Owned Homes
New Star, is the first organization within Chicago's south and southwest, and southwest suburban area to serve as an in-home support services provider for privately owned group homes. This option provides flexibility for families looking for structured and safe supports, which include 24-hour care.
Home-Based Support
At New Star, we understand how complicated it can be to care for a loved one with a disability. That's why, through our Home-Based program, we work as your partner in respite care. We're here to help you coordinate the services you need to create a meaningful day for your loved one while enabling him or her to remain at home.