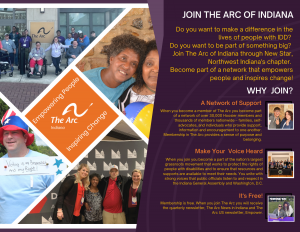 The Arc of Indiana Membership
Do you want to make a difference in the lives of people with IDD? Do you want to be part of something big? Join The Arc of Indiana through New Star, Northwest Indiana's chapter. Become part of a network that empowers people and inspires change!
It's Free! 
Membership is free. When you join The Arc you will receive the quarterly newsletter, The Arc News In Indiana and The Arc US newsletter, Empower.
Click HERE to become a member.