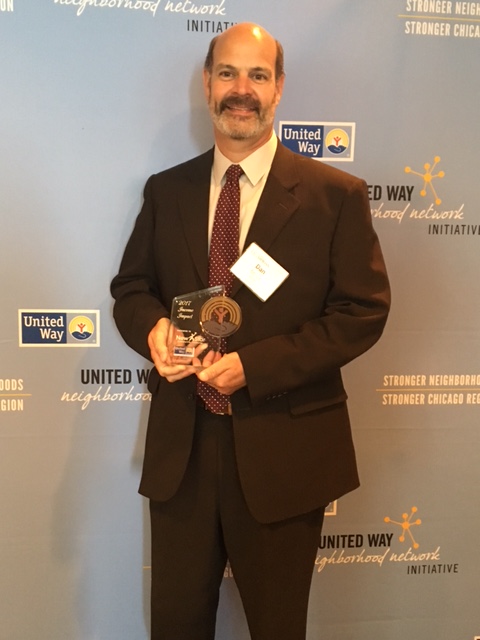 New Star, a not-for-profit organization serving special needs children and adults throughout the South suburbs, was the recipient of United Way of Metropolitan Chicago's Income Impact Award, at UWMC's annual Awards luncheon on June 29th, 2017, at the Sheraton Grand Chicago Hotel.  New Star received the award for its impact in the area of employment training and opportunities for individuals with disabilities.
Maya Hardy, Chief Professional Officer for United Way's South-Southwest Suburban Regional Office, expressed "Ensuring that families and individuals have the financial tools that they need to be successful is one of United Way's critical goals. One of our most unique partners in this work is New Star, a community organization dedicated to challenging the limits and changing the lives of people with intellectual and developmental disabilities through the Chicago region." She added, "From launching an e-recycling facility, to creating a nationally-known advocacy program, and leading the way in innovative models of residential care, New Star continues to break down barriers and blaze new trails through life-changing programs and services."
Dan Strick, President/CEO of New Star said, "At New Star, consumers are defined by the limitless potential of their abilities rather than the perceived limits of their disabilities. That being said, we recognize that success in the workplace often requires a variety of supports, especially in the beginning. That's where our program is making a difference."
For more information about New Star, please contact Jennifer Wojcikowski at (708) 841-1071 ext. 232 or visit their website at www.newstarservices.org.
For more information about United Way, please contact (312) 906-2350 or visit their website at www.uw-mc.org.