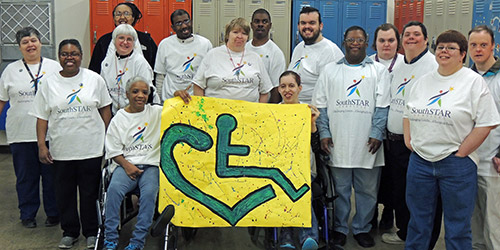 Need more information about our programs and services or to schedule a tour? Contact:
Graig Gillis, Intake Coordinator, at ggillis@newstarservices.org.
Interested in more information about our e-recycling, janitorial, and manufacturing services? Contact:
Stephen Reilly at sreilly@newstarservices.org.
Media Access
The New Star Development Community Relations office requires all media outlets to receive permission prior to visiting our two campuses or any of our residential homes.  No media members may enter a New Star facility without permission and escort by a New Star staff member.
New Star staff members and consumers who are approached by any member of the media are encouraged to refer them to the Director of Development/Community Relations, who will accommodate their needs and, when appropriate, schedule and facilitate interviews.  These policies apply to all media members, including those who wish to record audio or pictures, regardless of whether the recording involves interviews with New Star staff or consumers.
Media Contacts
Please contact Patricia Trebe, Director of Development/Community Relations at (708) 888-7418 or ptrebe@newstarservices.org.  She will facilitate interviews and requests and will help you meet your deadline.
Our Locations
Chicago Heights Office:
1005 West End Avenue
Chicago Heights, IL 60411
T: (708) 755-8030
F: (708) 755-8047
Crete Office:
25930 S. Cottage Grove Avenue
T: (708) 755-8030
F: (708) 841-1054
Schererville Office:
833 West Lincoln Highway
Ste. 115W
Schererville, IN 46375
T: (219) 440-7430
F: (219) 440-7112